I don't know about you, but after having my second child and turning 30, I started seeing a change in my skin – and not for the better! So I started looking into anti-aging skincare without toxic ingredients, and eventually found
the right one for me
.
During my little experiment, I realized that trying things out until you find the right one can end up being not only annoying and time consuming, but also expensive.
So in light of the fact that:
a. the Holidays are upon us
b. they are the most stressful season of the year (not to mention the most expensive!)
c. and stress contributes to aging... I decided to treat you to a little pre-Holiday gift and hold my very first beauty giveaway, with anti-aging products by
Elizabeth Grant
. I am currently using the Vitamin C Body Scrub and I really like it!
Here's what you could win:
1. Elizabeth Grant
Advanced Cellular Radiance
2. Elizabeth Grant
Vitamin C Eye Cream
and
Collagen Face Pads
So what do you say? Would you like to feel pampered? Here's how you can earn multiple entries for this giveaway:
- Tweet about this giveaway (1 entry)
- Blog about this giveaway (2 entries)
- Place the giveaway graphic on your sidebar (2 entries)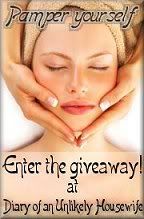 Then come back here and let me know. Please include links to your tweets/posts. Contest entries will be accepted through November 30th. Contest is open to U.S. and Canadian residents only (sorry
Sherry
!)
That's it!
Good luck everyone!